PERSONAL BRANDING
CREATING VALUE, RELEVANCE AND IMPACT. DEFINING WHO YOU TRULY ARE.
COMMUNICATING YOUR LEADERSHIP POSITIONING WITH CONFIDENCE.
THE FUTURE OF BUSINESS IS PERSONAL.
IGNITING YOUR IRRESISTIBLE PERSONAL BRAND
EXPERIENCE TRUE TRANSFORMATION
We are so proud of our personal branding work and know these sessions to be truly transformational. Based on our unique Strategic Personal Brand Pillar Framework, these individualised sessions will change the way you position yourself and will change the way you are seen and valued by those around you. This will lead you to discover your purpose, clarify your message and captivate your audience's attention.
These sessions are uniquely designed to craft your strategic personal brand positioning and to enable your advancement through a process of self-understanding, communications and strategic action. You will leave the sessions with a highly actionable personal brand strategy document, a plan of action and a clearly crafted positioning statement in line with your authentic personal brand story.
You'll develop and elevate your personal brand and profile using bespoke brand positioning and tailor made communications to create your own extraordinary impact.
Our work together will strategically showcase you at your personal and professional best. Let's be remarkable together…
You have real clarity about your personal brand positioning
Your audience understands and values your brand voice
You are clearly positioned as a unique thought leader
Your key audiences have you top of mind
You communicate 100% authentically, with impact

You have confidence in how you show up to every opportunity

Your values, relevance and impact are clear to all
You are in control of your professional brand story…
WHEN YOU ELEVATE YOUR PERSONAL BRAND
YOU CHANGE HOW THE WORLD SEES YOU
You Are in Control of Your Story…
These personal branding sessions are done on a one-to-one basis, run by our CEO, Carol O'Kelly, a multi award winner in this space. The sessions will enable you to build your personal brand effectively and get exceptional clarity; To craft your influence, credibility and reputation.  Together, we work on designing and sharing the messages that accurately represent your purpose and authenticity. Your personal brand will be in complete alignment with the value you bring and the impact you make.
"My work in personal branding is inspired and created based on the real women who have come to me with a desire to make an impact and influence the world through their stories." Carol
Who Are These Sessions For?
These powerful sessions are designed specifically for women just like you. Women looking to build relevant, valuable and impactful personal brands. To rise up and to be clearly seen for who they are rather than what they do.  As a personal branding strategist, Carol O'Kelly works mainly with women in C-Suite, entrepreneurs, executives and thought leaders. She works closely with women preparing for promotion and those going forward for board positions.
Carol strives to make women their very best selves, so they are appointed because they are unequivocally the best person for the role as opposed to being the quota hire. Her focus is on successfully filling the female leadership pipeline with women who are clear on their impact and the value that they bring to the table.
You'll see Carol on many international keynote stages, in the media and regularly running interactive programmes on Personal Branding, Executive Presence,  Personal Positioning and Effective Communications.
Every business has a story. Can we tell you ours?
RECENT CLIENTS INCLUDE EXECUTIVES FROM:
Women who know that they are worth the effort it takes to be the best they can be.
Women who work either as executives or entrepreneurs, team leads or managers. Those going towards promotion, partnership, directorship or those who are pivoting in their careers. Those coming back into the work place and aiming to re-establish themselves.
Do you feel you have more inside than people understand or see? Would you like your impact to be clearer? The value you bring to your organisation or team to be immediately seen, understood and appreciated?
Do you believe in yourself and your own value but need some clarity and a strong game plan to build your personal brand visibility?
HOW WE'LL WORK TOGETHER FOR TRANSFORMATIONAL RESULTS…
STEP ONE:
Getting to know you – We'll begin with you completing a detailed Personal Breakthrough Questionnaire. This is a thorough analysis of Yourself, your positioning, goals and career ecosystem. The more information you can add will give me a deeper understanding of who you are, where you currently are and where you'd like to position yourself. Of course, feel free to only add the details you're comfortable with… But the more you give me the better I can understand you!
STEP TWO:
We'll then have a 60min "Virtual Sit Down" on Zoom. I will work with you to create a bespoke Personal Brand strategy that's aligned with your identity, values, positioning, skills and purpose. We will look at your brand story and the ways you can live this brand with authentic energy. We will go through each of the 5 key Personal Brand pillars as they pertain to you and build your brand around each pillar. Together we will draft an Action List of ways for you to distill your Brand before our next session. 
STEP THREE:
We'll have a follow on 60 minute session. During this session, we will work on implementing proven unique strategies to ensure your Personal Brand is clearly communicated through all the touch points where you connect with your key audiences. 
STEP FOUR:
I will send you a comprehensive report on your clear Personal Brand Strategy, your story and the key strategies we have chosen for you to embody your brand. This report will detail each and every key pillar that a transformational personal brand encompasses.
YOUR OWN PERSONAL BRAND STORY
A compelling Personal Brand Story creates valuable and sustainable personal impact. I will help you uncover and craft your Personal Brand Story and position this as the anchor for your brand and business activities.
THE FIVE PILLARS FRAMEWORK
A strong personal brand is made up of five critical strategic pillars that make you relevant and valuable to your key audiences. We will also develop your strategic positioning, voice and communications to ensure you craft a powerful and relevant impact. 
CRAFT YOUR PERSONAL BRAND STATEMENT
A personal brand statement is a clear and strategic declaration of who you are, what you do and what you bring to the table. I will work with you to define this Personal Brand Statement. It will inform all your communications going forwards.
YOUR PERSONAL BRAND STRATEGY DOCUMENT
After our sessions, I will put together a robust Personal Brand Strategy for you personally. This document is part Strategy and part Action Plan that you can immediately put to use in your strategic positioning, thought leadership and impact development.
Experience the truly transformational effect of having an iconic personal brand.  Do you feel you have more to offer than people understand or see?  Would you like your impact to be clearer?  Are you not being headhunted into positions that you are perfect for? Is the value you bring to your organisation or team immediately seen, understood and appreciated? Are you on the move or pivoting and struggling to get your personal brand locked down?
Do you believe in yourself and your own value but need some clarity and a game plan to ensure that others value your Personal Brand?
I also run these programs for in-house teams, diversity and inclusion initiatives and internal women's networks.
Book a Discovery Call below to chat through the options that would suit your organisation best.
FULL SUITE OF FOLLOW ON SERVICES INCLUDING…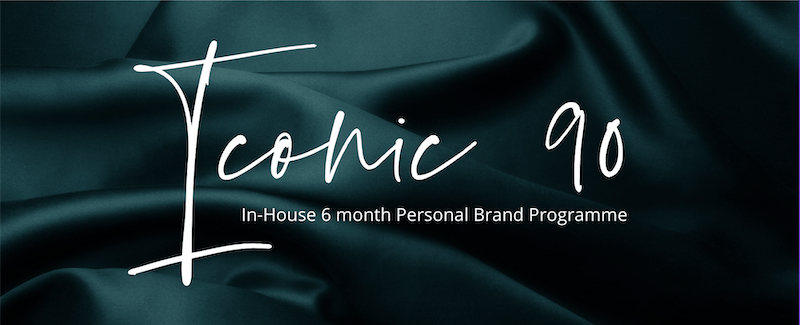 "ICONIC 90" PERSONAL BRANDING FOR LEADERSHIP
AN IMPACTFUL PERSONAL BRAND IN-HOUSE PROGRAMME FOR FEMALE LEADERS
This is a highly engaging fast paced 6 month programme specifically designed to create and develop the personal brands and key communications strategies for your female leadership pipeline.  Working with the Redstorm proprietary 5 pillar framework to ensure your female leaders and women in your organisation coming into pivotal teams develop personal brands that are firmly build on strategy, positioning, clear messaging and authentic personality.